Fillout your infomation below to get your personalized quote!
Dental Insurance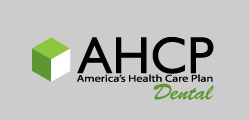 AHCP Dental
Featuring our lowest annual deductible and the most affordable rates, the AHCP Saver Dental offers the most economical way to protect your family and save on your dental expenses. The plan provides extensive coverage for the most typical dental procedures, such as cleanings and exams, while also offering protection on more costly procedures such as root canals and bridges.

At network dental providers, Diagnostic & Preventive dental work, including exams and cleanings are covered at 80%; Basic procedures, including fillings, are covered at 40%; and Major procedures such as crowns are covered at 20%.

The AHCP Saver Dental provides the following benefits to you and your family:
$25 annual deductible per covered person

80% coverage on Diagnostic & Preventive procedures*

40% coverage on Basic procedures*

20% coverage on Major procedures*

No waiting period for Diagnostic, Preventive & Basic procedures

12-month waiting period for Major procedures

Generous Annual maximum of $1,000 per covered person
AHCP Dental Plans, offered through your licensed agent, can protect you and your family on both routine and major dental expenses. These plans offer you access to affordable dental care, which is a vital component of general health and well-being. We offer two dental plans to meet your needs and your budget – AHCP Comprehensive Dental and AHCP Saver Dental.

As a member of an AHCP Dental Plan, you have the option to visit the dentist of your choice. Both AHCP Dental Plans provide members a choice of over 81,000 providers from the Dentemax network. By visiting a provider in the DenteMax network, you can maximize your benefit, while reducing out of pocket expenses. Dentemax network providers will offer benefits at a discounted rate, saving you additional money beyond the benefit of your plan.
The AHCP Dental Plans are offered through membership in the America's Health Care Consumer Association – an association committed to helping Americans save money on everyday expenses, including healthcare.
Annual Calendar Year Maximum

$50


Per Individual


$150


Per Family

Does Deductible apply to Diagnostic & Preventive?

Waiting Periods on Major Type Procedures

No


(with proof of current coverage)

Dental Insurance Benefits

Diagnostic & Preventative*

Association Membership Benefits

Individual
$25.00

Family
$47.50

Individual
$45.00

Family
$97.50
Note: The Online Health Survey is no longer available.
*
Out of network benefits are calculated based on the Maximum Allowable Charges as set by the plan. Benefits are calculated using a Maximum Allowable Charge. Maximum Allowable Charges are limitations on billed charges and are based on fees paid to Network Providers in the geographic area where the expenses are incurred.
**All benefits are subject to applicable limitations and exclusions.
Please use our quote engine to check rates and plans, but please call us so we can help you before you purchase. Together, we will review your plan, answer any questions and assist your with application online and by phone.